Rick Thomas, EdD, ACC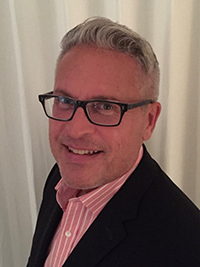 Rick is a leadership explorer, LEADS and ICF Certified coach, consultant, author and certified Dare to LeadTM Facilitator from the Brené Brown Education and Research Group. As principal and "chief inspiration officer" of Ambient Consulting Inc., Rick's work is to assist leaders lead deeply through self-exploration, collaborative dialogue and adaptive action.
For several years, Rick has had the opportunity to engage and work with inter-disciplinary leaders in a variety of contexts. Rick has experienced first-hand the benefits of the synergy that is created when the rich diversity and multicultural gifts of people — their talents, skills and experience — are allowed to flourish.
Rick has over 19 years of experience as a human resources development and learning strategist, facilitator, executive coach and organization development consultant, gained through multiple contexts facilitating leadership development, culture transformation, and strategic organizational development initiatives for progressive organizations of 55 to 23,000 employees. He is also an active keynote speaker and has been a speaker, trainer and panel moderator at several conferences across Canada, the US, Scotland, and the Kingdom of Saudi Arabia.
Rick holds a doctorate in educational leadership with a focus on human resources strategy and leadership, a master's in organizational leadership and systems renewal and a master's in adult education. Rick is faculty with both the Justice Institute of BC's Fire & Safety Division (School of Public Safety) and the Centre for Leadership, which is a division of the School of Health, Community & Social Justice. His first book, The Anxiety Chronicles: 39 Real-life stories of Personal Angst, Honesty, Humour and Coping is available on amazon.ca.
Rick's passion and service stem from his desire to help people tap into their joy, connection, and passion at work and in life.
Morning breakout session: From 'Sticky' to 'Straightforward': Engaging in Clear Collaborative Conversations
Most of our work – whether in an organization or flying solo – is based on the relationships we have with others. Fundamental to these relationships are the conversations we have that, in most cases, catalyze some sort of action. The conversations we engage in are key to our success and, for some of us, the organization within which we work or represent.
We need to be able to have conversations that are clear and collaborative in nature and that lead to a sense of partnership with others – where both parties are fully committed to the success of the project or outcome. The challenge occurs when these conversations become difficult, uncomfortable or "sticky," resulting in no sense of partnership.
This interactive concurrent session will marry theory with practice and provide you with a new framework through which you can build your collaborative conversation confidence and enable you to become "unstuck."
Learning objectives
Participants will:
Understand and internalize the key elements of successful conversations
Identify and use a simple – yet highly meaningful – framework to enable collaborative conversations to occur, and
Gain confidence and ease to be able to fully lean into a different kind of conversation toward mutual success.
Afternoon plenary session: Disconnect Your "AutoPilot": Waking Up to Intentional Leadership and Life
One of the biggest barriers to intentional leadership – and life in general – is "autopilot." We wake up, shower, brush our teeth, eat breakfast and go to work thinking about something else – a recent meeting, an argument, vacation time, birthdays. We're often not present. And when we begin this way, the rest of the day tends to follow suit. We see clients and patients, write emails, eat lunch, have conversations, attend more meetings and then go home. And later – when we are reflecting on our day – it's tough to discern anything beyond the norm. This mode is called autopilot and it plagues us all to one degree or another. We often slip into it because it's easier. Or so we think.
Autopilot is the refuge of the overwhelmed and unaware. Intentional leadership requires us to challenge this notion. It requires us to become aware and present: to probe deeply into our experience, to understand and accept ourselves, and to leverage what we find. Intentional leadership is the choice to wake up to the people and situations around us, to engage from curiosity instead of judgment, and to share vulnerably instead of being armored.
In this highly interactive session, you will engage in a deeper exploration of intentional leadership – what it means to be alive and human, to interact from the heart and to bring your full selves to the game.
Learning objectives
Participants will:
Explore how our minds are set on autopilot
Challenge their own patterns around autopilot
Identify how to disconnect from autopilot and embrace our true selves, and
Leverage self-courage that will catalyze action.